Regular price
Sale price
£12.00 GBP
Unit price
per
Sale
Sold out
Instantly beef up your kick drums! The eDW Kick Elements Pack is built for electronic drummers, hybrid drummers and producers to easily and quickly enhance dull kick drums in any situation.
100 eLement samples are included to layer with existing drum module instruments, trigger with your acoustic kick or blend with your recorded drum tracks. Choose from 3 kinds of attack, sub bass or room ambience samples to shape your kick or use the unique beef samples to add immediate power to a wimpy kick.
Most drum modules that allow sample imports to be used as layers are supported, along with sample pads, hybrid trigger modules and trigger software. See Compatibility and Notes below for more information.
Module/Software Manuals
ROLAND MANUAL
ALESIS STRIKE MANUAL
MIMIC PRO MANUAL
TRIGGER 2 MANUAL
File size: approx. 19mb zipped, 31mb unzipped
Share
View full details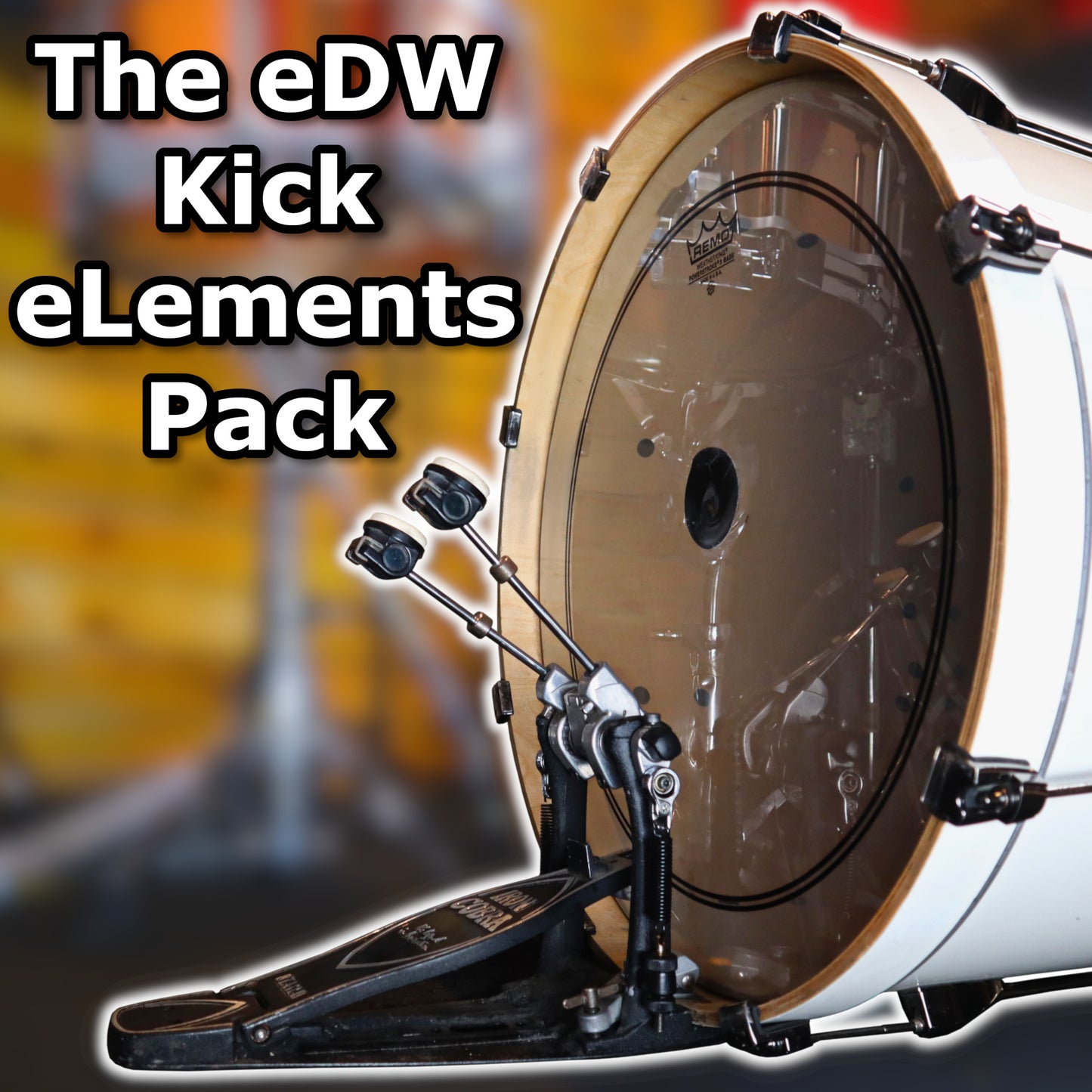 Compatibility

Roland - TD-50X, TD-50, TD-27, TD-17, SPD-SX, SPD-S, TM-6 Pro, TM-2, TM-1, RTMicS

Pearl - Mimic PRO
Yamaha - DTX-PROX, DTX-PRO, DTX-MULTI 12, EAD10
Alesis - Strike Module, Strike MultiPad
Slate - Trigger 2, Trigger
Gear4Music - DD90 Digipad
dbdrums - nPad
HXW - Avatar PD705
Millennium - NonaPad
ddrum - Nio Percussion Pad
Ashley - DME 705
Other manufacturers - check your product's User Manual and the file format listed in the Notes section

Notes

This product is delivered as a digital download.

These samples are provided as 16-bit 44.1kHz stereo .wav files.

Instrument files for the Alesis Strike (.sin) and Slate Trigger 2 (.tci) are also included.

If your drum module, trigger module or sample pad does not support any of the above file types, this pack may not be supported.

Installation of this pack may require additional hardware - e.g. SD cards, USB thumb drives, proprietary memory cards, USB cables - or software for installation on your module.

Please refer to the product's Owner's Manual, User Guide or other documentation to see what requirements your module has for file transfer or sample imports.